Windows 7 is a massive success for Microsoft and now the company is pulling up socks and adding more language support to Windows 8.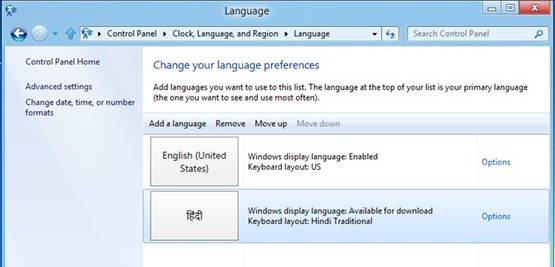 Multilingual User Interface technology or MUI was introduced in Windows 2000 that is being advanced release by release. In a recent Building Windows 8 blog post entry, Microsoft reveals that they have separated input languages from Windows Update and introducing new Language preferences in Control Panel where you can see installed and enabled languages and keyboard layout on the system.
Language preferences is the one place to go to add or change display languages, input language, and other functionality.
– Ian Hamilton, Program Manager, Windows International Team
Earlier some languages are installed from the Microsoft Download Center, and some are installed using Windows Update. For Windows 8, Language preferences will do all. And you won't see any additional languages in Windows Update now as you see in Windows Vista Ultimate or Windows 7 Ultimate.
In addition to separation thing, UK English is now standalone language in Windows 8. As Ian Hamilton explains – We admit that this is something we should have done a long time ago. Windows users in the UK have gotten by with the US English version of Windows, and while we Americans knew this was not their favourite, that is clearly no defence. We believe that this version of Windows will also be widely used in India, Australia, South Africa, New Zealand, the Republic of Ireland and many other places.
Now with one standalone language and 13 new Language Interface Packs aka LIPs, Windows 8 will be available in total 109 languages. And the new LIPs includes Punjabi (Pakistan), Sindhi (Pakistan), Central Kurdish (Iraq), Uyghur (People's Republic of China), Belarusian (Belarus), Kinyarwanda (Rwanda), Tigrinya (Ethiopia), Tajik (Tajikistan), Wolof (Senegal), K'iche' (Guatemala), Scottish Gaelic (United Kingdom), Cherokee (United States) and Valencian (Spain).