It has been only a week since Windows 8 Consumer Preview released and we have first Windows 8 theme in Windows Personalization Gallery. Windows 8 themes aka theme packs are cabinet files with an extension of .deskthemepack, and consist of a .theme as well as any number of images, sound, icon, and mouse cursor files.
In addition to setting the colors of the window chrome, desktop background, desktop icons, mouse pointers and sound schemes, themes in Windows 8 include auto color settings, panoramic view and better dual monitor support than ever.
Panoramic view: Now it's not limited to Windows Phone only, you can create and use panoramic theme that extend a single background image across two monitors. For this you need to have same display settings (Resolution) in both the monitors otherwise a different image will appear in each display.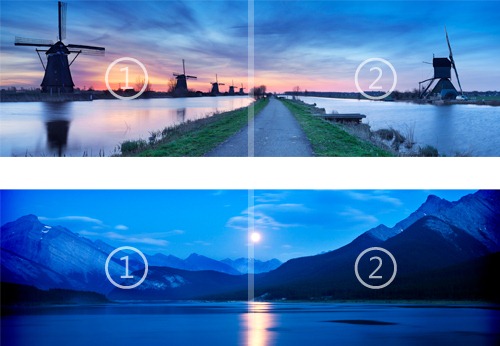 It's not necessary to have a dual monitor setup to use a theme that contains panoramic images. Those users don't have multi-monitor can still enjoy panoramic background but each background will be cropped to the center in order to set as a background image.
Different backgrounds in dual monitor setup: Themes containing regular backgrounds (non-panoramic) will display different images in each monitor unlike duplicating the same image as happens in Windows 7.
Auto Color: Windows 8 themes created with auto color settings will automatically changes Windows Desktop glass and taskbar color with most dominant color in whichever background image is currently displayed. Now you need to struggle to find one single glass color that goes with every image in a set.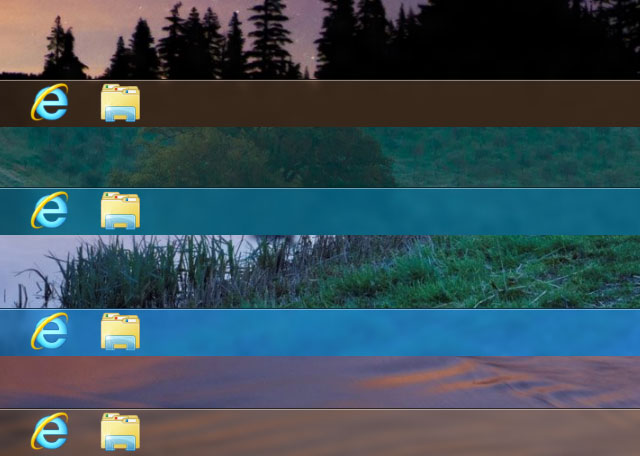 It should be clear to the users that all Windows 7 themes will work in Windows 8 but it's vice versa not true. Windows 7 doesn't support these new Windows 8 personalization features. However you can extract themes content by just walking through this guide.