Recently Microsoft revealed improved new file management basic actions in Windows 8, alias 'copy jobs' and Today the company shared the evolution of new File Conflict Resolution Dialog experience in Windows 8 on B8 weblog.
To open knob of file conflicts, there were straight choices during copy jobs earlier, See Figure how they handled this in Windows 3.1
Microsoft learns a lot from past and evolves meaningful approaches in future releases. In Windows 7, there's a lot of information to aid the choice, and more options about what action to take while choosing between two similar things. But it was not enough and Microsoft set two major goals to improve file conflict resolution in Windows 8.
Continue the legacy and offer One-click, bulk management of all conflicts, like Replace all or Skip all known as Simple Conflict Resolution dialog.
Aid secondary more-grained experience to make the right decisions more efficiently for faster copy jobs.
To achieve optimized, fast and fluid design, Microsoft adopted 2-tiers and 3 tiers approaches, and ended up back at 1-tier. (See figures)

[2-Tiers File Confict Resolution]

[3-Tiers File Confict Resolution]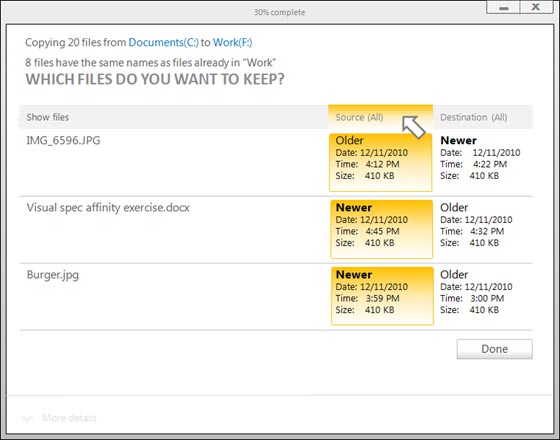 [1-Tiers File Confict Resolution]
Key refinements:
Aid the source and destination (and their columns) more apparent (similar to Tile view in Explorer)
Check boxes, give appropriate cues for selection.
Addition of Self-explanatory text
Aid the distinct Metadata adjectives highlighting difference between files.
Pre-selected defaults reduce the work for users.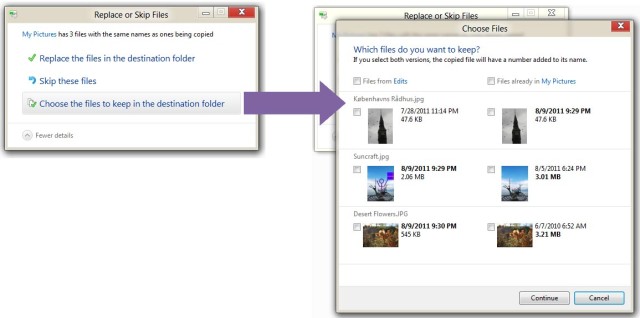 In addition The Detailed Conflict Resolution dialog also offers the following features to help when even more information is required to make the decision:
Double-clicking the thumbnail opens the file.
Right-clicking the thumbnail opens the standard context menu.
The blue Source and Destination text are clickable, and open those locations in Explorer.
Hovering on the thumbnail or link shows a tooltip with the full file path.