The finest low price offer to get Windows 7 for your home PCs is back again. Microsoft announced that Windows 7 Family Pack is available on Oct. 3rd again through retailers and online at Microsoft Store. Windows 7 has put a solid foundation with many advanced features and would be completing its first year on Oct 22nd . Now its your chance to grab Windows 7 and will be available for limited supply to run out.
Windows 7 Family Pack provides you with three licenses of Windows 7 Home Premium Upgrade for the low price of $149.99 ERP, in either 32 or 64-bit and you can save more than $200. Its already available in US and will be made available outside the US on or after Oct. 22nd.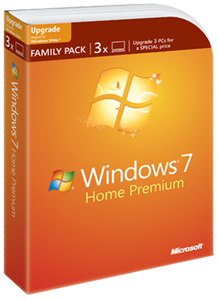 Countries where Family Pack will be available are:
United States, Canada, UK, France, Germany, China, Russia, Austria, Belgium, Denmark, Finland, Iceland, Ireland, Italy, Luxembourg, Netherlands, Norway, Portugal, Spain, Sweden, Switzerland, Czech Republic, Estonia, Greece, Hungary, Slovakia, Bahrain, Kuwait, Oman, Qatar, Saudi Arabia, UAE, Australia, Korea, New Zealand, Singapore, Hong Kong, Taiwan, Brazil, Bulgaria, Croatia, Latvia, Lithuania, Mexico, Romania, and Ukraine.
Note: The offer is not valid for India.