If Windows default look and feel annoys you then you are on right page! The Windows Club proudly presents Ultimate Windows Customizer, A freeware application that not only tweaks your Windows appearance but aids to improve functionality.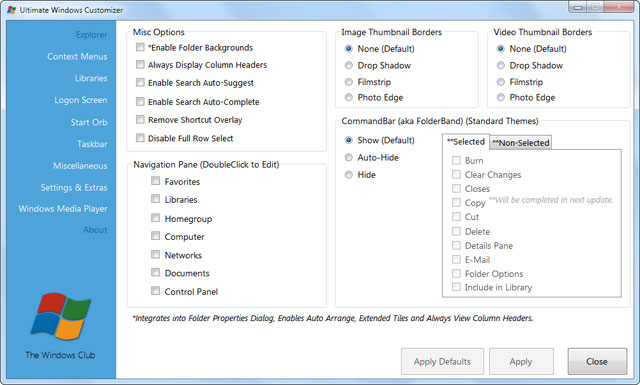 Ultimate Windows Customizer allows customizing or changing the Start Button, Logon Screen, Thumbnails, Taskbar, Explorer look, Windows Media Player, etc.
Key Features of Ultimate Windows Customizer
Lets you customize almost all aspects of Windows including, Start Button, and Logon Screen, Windows Explorer, Libraries, Context Menu, Taskbar, Windows Media Player and more
Very simple and easy to use. No manual Hacks. No need to manually edit the Windows Registry and Windows System files
Tested over and over for compatibility between various customizations.
70+ major features with literally tons of sub-features
Built in Update Feature to be easily notified of new updates.
Backs up all System Files and Registry Settings that UWC deals with and does not modify these.
Error Log for easy display
Easy uninstallation via the Control Panel.
Creates System Restore Point before any customizations are done.
Ultimate Windows Customizer also includes the following tools which will be of help to you before, during or after the customization process.
RegOwnIt: Lets you to take ownership of a Windows Registry key
Replace It: Lets you replace system files easily
Restart Explorer
Screenshot Tool
System File Checker
System Restore Creator
System Requirements
Windows 7, 32-bit and 64-bit.
28 MB of free space in HDD (This is due to the nature of the customizations and for backup purposes.)
Due to wide range of customization; It is advised to create system restore point in prior to make any changes, for the same – Ultimate Windows Customizer generates backup of files and Windows Registry on first run.
After assuring backup or restore point, you can start customizing your Windows.
[download]
Ultimate Windows Customizer v1.0
[/download]