Expression Design 4 is Microsoft's professional-level editing program for vector and bitmap graphics. It was based on a 2003 Microsoft acquisition, Creature House Expression. The program only runs on Windows XP, Windows Vista and Windows 7 environments. It is positioned to compete with programs like Dreamweaver, CorelDRAW, Corel Designer, Adobe PhotoShop, Adobe Illustrator and Adobe Fireworks.
Expression Design 4 enables the user to create and manipulate sophisticated vector graphics. It was designed to work seamlessly with Microsoft's Expression Blend or Expression Web for website development. Microsoft's long-standing Frontpage program for website authoring was discontinued with the release of Expression Design. Parts of Frontpage were integrated into the new program.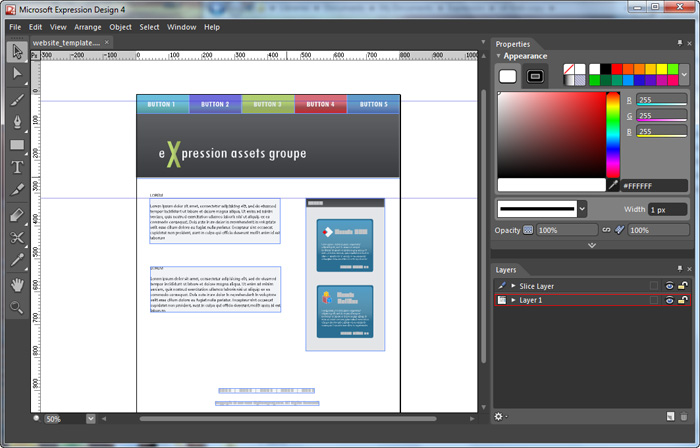 While the program works best with Windows Metafile (WMF), Enhanced Metafile (EMF), and Enhanced Metafile Plus (EMF+) files, it can also import projects created in Adobe Illustrator and Adobe Photoshop. Other supported file formats are .psd, ai, .jpg, .bmp, .png, .gif, .tif, .ico and .wdp files. Expression Design exports in .psd, .jpg, .bmp, .png, .gif, .tif, wdp, .pdf, and .xaml formats. It also supports copy and paste functions to Microsoft Office and can copy and paste XAML to Expression Blend and other XAML editors.
Expression Design 4 is packed with powerful composing tools with full curve control like B-Spline, Bezier and polyline. It offers full layer support so the user can slice and blend between Microsoft images and Adobe Photoshop. It also permits easy editing of non-destructive live effects like flashing or morphing. Vector paths retain their flexibility with both hard-edged and organic strokes.
The software is user-friendly and easy to learn if the user has a background in web design and understands the ins and outs of graphic editing. The workplace is set up in a very simple open fashion, giving the user the option to create a personalized workplace for each project. Commands are accessed through menus and sub-menus as opposed to drop-down tool bars. The personalized workplaces can be saved for future use with varying work conditions like wide-screen monitors, small monitors or multiple monitors, as desired.
Options for importing files are abundant. The designer can drag the files to Expression Design with Windows Explorer or import them with the Import command. Files can also be copied and pasted from another document. WMF and EMF files can be imported directly into the workplace just by opening them. Individual slices can be saved in different formats such as XAML, PDF, PSD, WPF canvas, HTML comp, Silverlight canvas and WPF resource dictionary. Video for web streaming can be easily assembled and enhanced for the Silverlight platform.
One of the most popular features of the program is its unique SuperPreview tool that permits the user to see their website or page in multiple browsers simultaneously. That makes it easy to edit the project so it looks good in Firefox, Internet Explorer or any browser. Designers used to have to open the project in each browser separately. That made it tedious to guarantee that the page or graphic looked good in every browser. SuperPreview doesn't permit real-time editing but it significantly reduces the time a designer will spend comparing the project between browsers.
Expression Design 4 is included in two Microsoft design packages. Expression Studio 4 Ultimate retails for $599. Expression Studio 4 Web Professional retails for around $149. Upgrades from earlier versions are less expensive. Another nice touch is that Microsoft permits the user to try the software before they buy it. A free, 60-day version with full features is available for experimentation and practice.
Download: Expression Design 4
About Author:

Zoe Davis is a senior writer for WebHostingSearch. She loves writing about anything that covers world wide web news. If she is not writing, she is definitely travelling and taking good pictures.