The most anticipated pre-release of Windows 8 is ahead later this month. It is confirmed that Microsoft will be releasing Windows 8 Consumer Preview worldwide in upcoming Mobile World Congress event.
Today, Business Insider reports that Microsoft has started invitation to press for event, to be held in Barcelona, Spain from February 27 to March 1.
As Mobile World Congress event is all about mobile devices, the actual Windows 8 Consumer Preview announcement will be a part of press event on Wednesday Feburary 29, 2012 from 3.00 – 5.00 PM.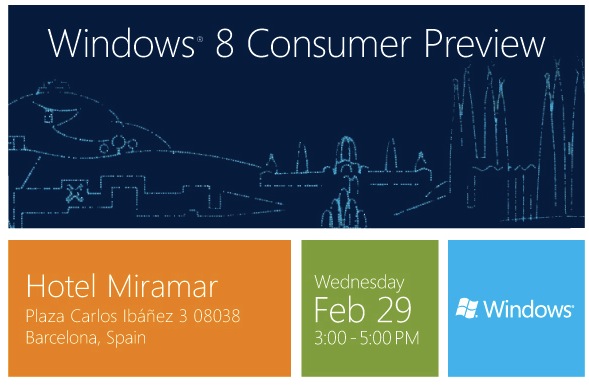 Windows 8 has a number of new features like a new user interface named Metro, replaced Start Menu in favor of new Start Screen, Revamped Windows Explorer with Ribbon UI, Native support for USB 3.0, Internet Explorer 10, Windows Live ID integration, new recovery functions – Refresh & Reset and so on.
As many of you already experienced, but if not – then you can still get your hands-on Windows 8 Developer Preview that was released earlier on September 14, 2011 in BUILD conference in Anaheim, CA.
In addition to upcoming pre-releases, Microsoft may be releasing of Windows 8 RC (release cadidate) later in the year, in prior to release Gold (RTM) version of Windows 8.