Recently we reported a rumor that IE10 will be packaged with Windows 8 and today some resources unveiled (via askvg.com) that shows Microsoft seems to be planning Internet Explorer 10.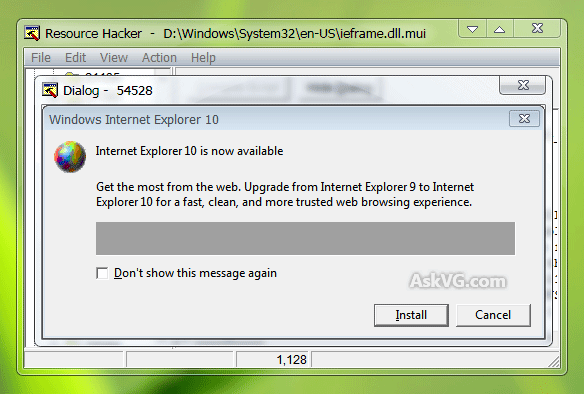 Baku (A AskVG Reader) was exploring IE9 files with Resource Hacker and found a dialog window in ieframe.dll.mui . The dialog box is supposed to appear when Internet Explorer 10 will be available. The dialog message reveals that Microsoft is making its way to painless upgrade from IE9 to IE10 and it will be an optional and to be delivered as a separate upgrade from Windows Update.
Microsoft took a year to release the final version of Internet Explorer 9 since its first public appearance as Platform Preview. Internet Explorer 9 got consistent improvement over the year and now delivers the fastest and secure web experience. As Microsoft reported, IE9 momentum is still continuing with more than 2.35 million downloads with first 24 Hrs.
The dialog's message reads:
Internet Explorer 10 is now available

Get the most from the web. Upgrade from Internet Explorer 9 to Internet Explorer 10 for a fast, clean, and more trusted web browsing experience.
It hits that IE10 will have a lot more to enhance the beauty of the web. … may be METRO UI. Stay tuned!
Image credit: AskVG.com