Few days ago, Microsoft released Expression Studio 3 and made available for download as trail. I just downloaded and completed installation.
To install it, you requires:
Microsoft Windows XP with Service Pack 2, Windows Vista or Windows 7 operating system.
Windows Media Player 11 (Windows XP only)
PC with 1 GHz or faster processor
1 GB of RAM or more
2 GB or more of available hard-disk space
.NET Framework 3.5 with Service Pack 1
Support for Microsoft DirectX 9.0 graphics with Windows Vista Display Driver Model (WDDM) Driver, 128 MB of graphics RAM or more, Pixel Shader 2.0 in hardware, 32-bits per pixel
DVD-ROM drive
1024 x 768 or higher-resolution monitor with 24-bit color
Internet access (for Internet functionality; additional fees may apply)
Some product features require Silverlight 2.0, Firefox 3.0, Internet Explorer 7 and AJAX Suite
Actual requirements and product functionality may vary based on your system configuration and operating system and assumes non-concurrent product use.
The trail package is a compressed executable archive size of 249MB, that follow simple installation wizard with custom setting and finishes. The whole installation has been furnished this time and I'm sure, when you install it Microsoft Office 2010 TP splash screen will knock definitely.
The most interesting thing is, as like O2010 splash screen, the setup wizard follow the same style and look with minimize and close control at top of right corner. It is example of professionalism and attracts everyone and insists to say "Wow".
I have captured installation screenshots, check it out.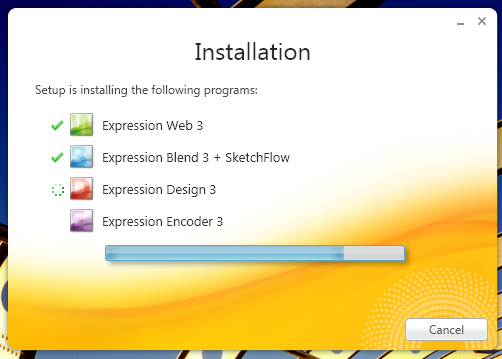 The complete suite of Expression Studio 3 includes Web 3, Blend 3 + SketchFlow, Design 3 and Encoder 3 and all packages are also available as in separate installers.