Is there any option to turn Sticky Notes delete warning back on? Strange thing, Once you opt "Don't display this message again." Sticky Notes doesn't have any option to do it.
Did you notice? even I didn't notice yet. My colleague Anand K asked me that one of his readers had opted to not show this message again while deleting sticky note and didn't find any option to restore back.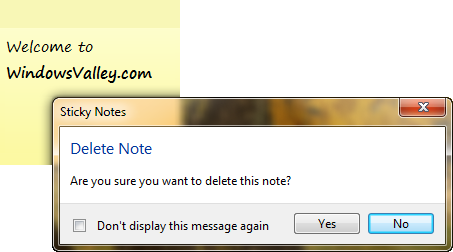 But after doing some R&D, I have found the registry, that preserve Sticky Notes settings. You can restore back by following simple steps:
How To:
1. Run Registry Editor and navigate to following path:
HKEY_CURRENT_USER\Software\Microsoft\Windows\CurrentVersion\Applets\StickyNotes
2. Now delete the value called PROMPT_ON_DELETE or set its value to 1 
That's it! You are done.
Applies To: