Windows Aero has been revamped by adding new features like Aero Snap in Windows 7. Aero Snap enables clicking and dragging a window to the right or left side of the desktop causes the window to fill the respective half of the screen. Snapping a window to the top of the desktop maximizes it.
Resizing a window to touch the top or bottom edge of the screen maximizes the window to full height, whilst retaining its width; these windows will then slide horizontally if moved by the title bar, or can be pulled off, which returns the window to its original height.
It's handy feature to manage multiple windows, but if you don't like it or your PC unable to handle Aero Snap transition effects or you want to disable it. Here is simple and straight way to do it.
How To: Method 1:
1. Open Control Panel > Ease of Access Center.
2. Select Change how your mouse works and then Make the mouse easier to use option.
3. Now, under Make it easier to manage windows, check the option entitled Prevent windows from being automatically arranged when moved to the edge of the screen, and click on OK.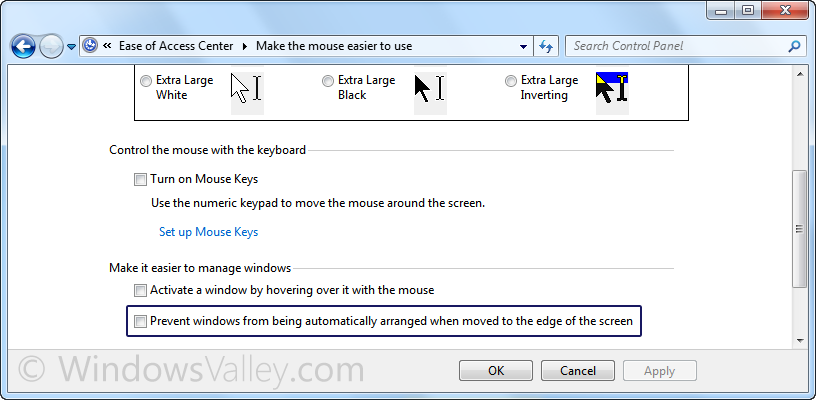 Method 2:
1. Run Registry Editor and go to: HKEY_CURRENT_USER\Control Panel\Desktop
2. Change or modify data of a String(REG_SZ) value called DockMoving to 0 to disable or 1 to enable it
3. Restart or logoff your PC to take effect.
Applies To:
Windows 7 Ultimate
Windows 7 Enterprise
Windows 7 Professional
Windows 7 Home Premium