Picture Slideshow as desktop background is totally impressive on Windows 7. It doesn't degrade performance, no more need of third party software application and better than DreamScene videos on Windows Vista. Its quite easy to setup, follow it…
Creating SlideShow on Windows 7 is as easy as ABC, take a look:
How To:
1. Right Click on desktop and choose Personalize & click on link Desktop Background.
2. On Desktop Background window, you find some default picture locations i.e. Windows Desktop Background and Picture Library. That refers C:\Windows\Web\Wallpaper and Pictures library respectively.
3. Here you can select multiple pictures, set position, shuffling and set time slice for selected pictures.
As we said, it doesn't affect system performance and power efficient, just select checkbox When using battery power, pause the slide show to save power. It'll pause the slide show while working on battery.
4. Save changes and your slide show is ready.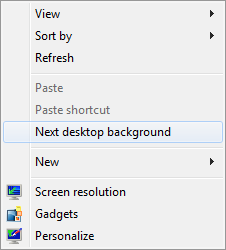 You can move to next background manually by right clicking on desktop and choose Next desktop background.
Applies To:
Windows 7 Ultimate
Windows 7 Professional
Windows 7 Home Premium
Windows 7 Home Basic