As you know, this week we are covering Backup and Restore in Windows 7. Now its time to explore Windows File Backup. After this, you will be able to setup and configure Windows File Backup and schedule it.
Lets start with step by step guide to setup Windows File Backup.
How To:
1. Type backup and restore in StratSearch and choose to click on under the program section. Backup and Restore window appears.
2. Here click on Set up backup. It launches backup wizard and scans for devices, where you can save your backup. It may be hard disk, CD/DVD and network location as well.
We recommend to save backup on an external hard drive and network location, it would be better choice than any other as backup destination.
3. Once you choose your backup destination, you can proceed next. Now the wizard offers to choose recommended settings, in which default Windows folders will be backed up & let you choose your desired folders and drives.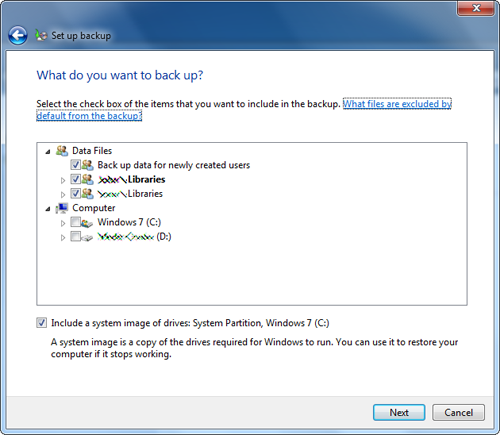 Note: you can't choose the items from the drive, in which backup is to be saved.
4. You can also include a system image of System Partition and Windows Partition, that are required for Windows to run. This image will help you to restore your computer from un-bootable state.
5. On next page, you can review your backup summary and change the schedule, which is "Every Sunday at 7:00 PM" by default.
It would be the best practice to schedule your backup and get rid of the headache of taking backup timely. Once you are done, start backing up and save it.
Applies To:
Windows 7 Ultimate
Windows 7 Enterprise
Windows 7 Professional
Windows 7 Home Premium
Windows 7 Home Basic
Windows 7 Starter