We are pleased to announce, Ultimate Windows Tweaker has been updated to v2.1. Its not a major release, but includes important bug fixes.
It is a freeware Tweak UI Utility for tweaking and optimizing Windows 7 & Windows Vista, all editions. You can simply download and use as a portable application. It doesn't require installation and can be carried out in USB removable device/pen drive. it covers more than 150 tweaks and settings.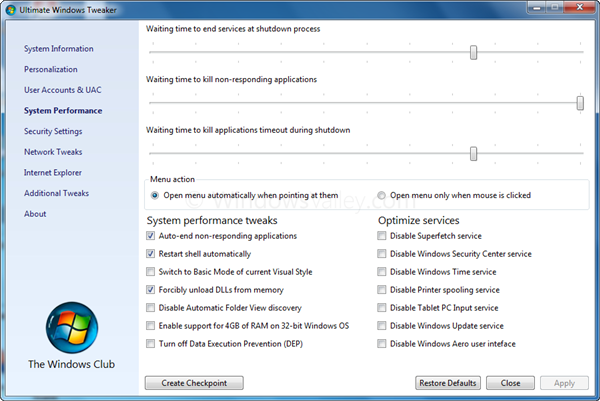 Change log:
# FIXED: UnauthorizedAccessException occurred when click on Apply button on System Performance page.
# FIXED: Crashing on non-English version of Windows Vista/Windows 7, when enable or disable unused services.
# IMPROVED: Optimize services methods re-written.
# ADDED: Switch to basic mode of current Visual Style.
# REMOVED: Disable Built-in feature to manage folders.
The latest release (v2.1) of Ultimate Windows Tweaker can be downloaded from given link below:
[download]
[/download]