Microsoft made an impressive impact with advent of Windows 7, its not a "Vista Service Pack". Windows 7 is a solid OS with plenty of modern eye candy features and perform better than Windows Vista on same hardware platform.
If you still think, you can tweak this OS and literally surf internet to find and read tips for Windows 7. Windows 7 – Tips & Tricks, a free eBook authored by my friend Vasu Jain, may be of interest to you. It holds total 113 pages, that covers 50+ valued tips and tricks including Registry Hacks. By following them you can enrich your Windows 7 Desktop Experience.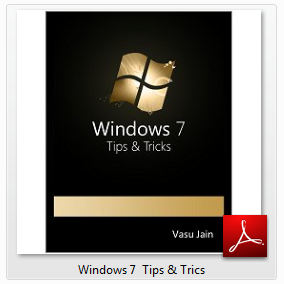 Vasu Jain, is Software Engineer, works for TATA Consultancies Services. He also loves trouble shooting and sharing Technical Knowledge over his own blog WindowsVJ.com.
You can download this eBook from here: PDF (5.8 MB) & XPS (6.44 MB)