Microsoft is offering comprehensive guides to End Users, IT Professionals and Developers to access information that will help them embrace the new platforms, Windows 7 and Windows Server 2008 R2 and this time Windows Server 2008 R2.
Microsoft is introducing a free eBook "Introducing Windows Server 2008 R2" by Charlie Russel and Craig Zacker with the Windows Server Team.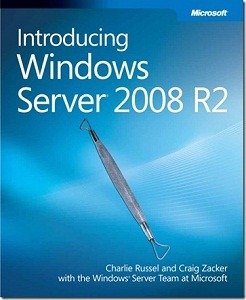 Here is the book's Content at a Glance:
| | |
| --- | --- |
| Chapter 1 | What's New in Windows Server R2 |
| Chapter 2 | Installation and Configuration: Adding R2 to Your World |
| Chapter 3 | Hyper-V: Scaling and Migrating Virtual Machines |
| Chapter 4 | Remote Desktop Services and VDI: Centralizing Desktop and Application Management |
| Chapter 5 | Active Directory: Improving and Automating Identity and Access |
| Chapter 6 | The File Services Role |
| Chapter 7 | IIS 7.5: Improving the Web Application Platform |
| Chapter 8 | DirectAccess and Network Policy Server |
| Chapter 9 | Other Features and Enhancements |
Who This Book Is For-
This book is targeted primarily at Windows server administrators who are responsible for hands-on deployment and day-to-day management of Windows-based servers for large organizations. Windows server administrators manage file and print servers, network infrastructure servers, Web servers, and IT application servers.

They use graphical administration tools as their primary interface but also use Windows PowerShell commandlets and occasionally write Windows PowerShell scripts for routine tasks and bulk operations. They conduct most server management tasks remotely by using Terminal Server or administration tools installed on their local workstation.
The eBook can be downloaded here (XPS file, 28 MB) and here (PDF file, 11 MB).
Checkout few more resources are being offered, It may interest to you.